1795 Capped Bust to Right Small Eagle Half Eagle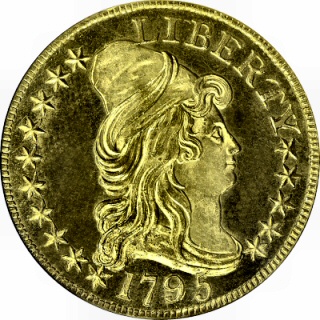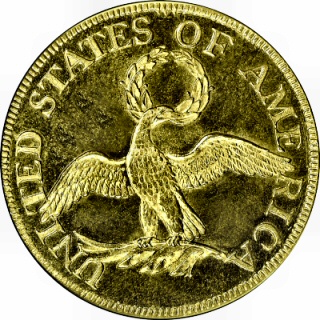 ---
Standards:
Weight: 8.75 grams
Composition: 91.67% gold, 8.33% silver and copper
Diameter: 25 mm
Net Weight:
Edge: Reeded
Half eagles appeared in 1795, two years after the first American copper coins and one year after the first silver coins. Much of the delay in the appearance of the $5 denomination can be attributed to a lack of gold bullion being deported at the Mint, but we also know that some of the Mint officials had difficulty obtaining performance bonds allowing them to handle precious metals.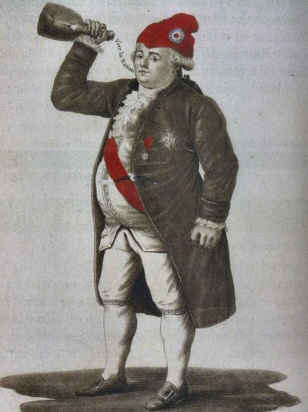 The liberty-cap design has appeared frequently on American coinage, but it dates back to at least ancient Rome, where it was bestowed upon freed slaves. Also known as a phyrgian cap, it has been used as a symbol for freedom since that time. In France, it was adopted by the revolution; when the angry mob invaded the palace of King Louis XVI, they forced him to don a liberty cap, as shown in this French political cartoon of the 1790s.The first type shows a liberty cap— carried on a pole on the half cents and large cents— planted firmly on Liberty's head. A long strand of hair wraps unnaturally around the cap, creating the false impression of a turban (this design is sometimes called the Turban Head). The reverse features a scrawny eagle perched atop a palm branch, holding a wreath in its beak. The same designs were used on the first $10 gold pieces, which also debuted in 1795. Only the Philadelphia Mint produced this type. No Proofs or presentation strikes were made. Mintages for this type are very low, and survivors of any date are very scarce, making it one of the most desirable of all early types.

Because the dies were hand-made, numerous varieties exist.

Designed by Robert Scot. The obverse features a head of Liberty facing right, wearing not a turban, but a stylized freedman's cap (the turban confusion probably cam about by the long lock of hair that wraps unnaturally around the cap). The word LIBERTY appears above and to the right of her head. Either 15 or 16 stars are arranged on either side of Liberty's head and the date appears at the base of the obverse. The reverse shows a wan-looking eagle perched on a palm branch, its wings outstretched, holding a wreath of an olive branch in its beak. The words UNITED STATES OF AMERICA arc around the top of the reverse.

Source: Encyclopedia of U.S. Gold Coins, 1795—1933 by Jeff Garrett and Ron Guth.
---
Please call for pricing info on this item.